ut on your cowboy hat and roll down the windows, the year is 1976 and you're on a road trip deep in the heart of Texas! It's hot as heck outside without a cloud in the sky. The wind has blown you north of San Antonio and a sign from the highway beckons you to take the US-87 towards Fredericksburg, Texas. Fredericksburg is an old and quiet town filled with unique and curious shops. In the square you have spotted the Estes Building, home of Jack's Emporium. You park the car and stretch your legs. As you walk toward the front door, the building's grand whitewashed porch and balcony are a welcoming sight. Just one look through those storefront windows and you know that you're going to be here for a while! The store is filled with gifts and cards. As you move deeper inside the room there are shelves and cases filled with antiques and collectibles. You are surrounded by the nostalgia of yesteryear. Your eye is suddenly drawn to a case along the back wall. There before you stands a miniature tribe of Indian people. "Would you like to see the Skookums?" says a kind voice behind you. You turn around and, according to Mr. Jack Estes, you've just met the sweetest gal in Texas!
That gal's name was Dorothy "Frances" Estes. She was born Dorothy F. Wright in 1925 in Muskogee, Oklahoma. In 1938 her family moved to South 14th Street in Muskogee where she met her next-door neighbor, L.C. "Jack" Estes. They were classmates and dated through high school. In 1941 Jack joined the Navy. The two managed to keep in touch and by September 23, 1942, Frances married her longtime sweetheart in Reno, Nevada. They had an exciting and full life together. They lived in many places including California, New Mexico, Texas, and Oklahoma. Jack worked his way from the Navy, to various art directing jobs, to owning a chain of camera stores, and then onto real estate investing. After a while the real estate business had become too demanding, so the couple decided to sell out and retire.
Frances had developed a love of collecting and antiques along the way, which prompted them to get into the antiquing business. In 1975 they moved to Fredericksburg, Texas where they purchased an old two-story building built in 1913 by Richard Maier, an early Fredericksburg pioneer and businessman. They restored the building and opened in 1976, the bicentennial year. They made their home on the upper level and their business on the ground floor. Jack's Emporium sold cards, gifts, antiques, collectibles and primitives.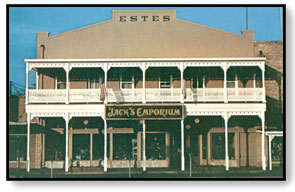 Next Column