requently referred to as Skookum Indian Dolls, American Indian dolls made by Mary Francis Woods are not Skookum Indians at all but rather highly individual and creative figures, collectible unto themselves. The confusion most likely occurs due to the fact that construction of the Woods' dolls is similar to the Skookum dolls in their simple blanket wrapped bodies. Adding to the misconception is the fact that the production years of Mary Francis Woods' dolls paralleled Mary McAboy's Skookum dolls for two decades through the 1920s and 30s. Both doll makers began their work in the early years of the 20th century and commercial success came to both in the 1920s.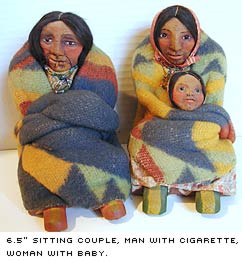 Mary Francis Woods was born in Michigan. After her early school years she traveled to Chicago to begin her formal training in the arts at the Julien School. Her strong interest in history and her passion in particular for the West led her to leave Chicago to study tribes such as the Nez Perce, the Umatilla, and the Cheyenne. By living on their reservations and observing their culture and daily lives she came to know the tribes in a very personal way. She later continued her artistic studies at the Chase School in New York arriving there sometime around 1903. Although it is not known exactly when, the West again beckoned Mary Francis and she left New York to be closer to her true source of inspiration. She settled in Portland Oregon and began her career.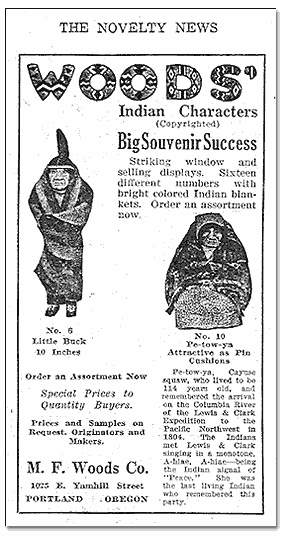 Her first endeavor was in the creation of Indian portraiture on leather. These pieces were sold at various curio shops and cigar stores in the Portland area. From her works on leather the progression to painting dolls heads on leather was a natural one. A 1920 article in Toys And Novelties reads: "The story of the evolution of the Indian dolls is interesting, as Mrs. Woods gives it. In the beginning, she used leather for faces on which features were painted. The bodies, originally, had pedestals. Then came the struggle of making feet which would not only have a life-like appearance but which would enable the figure to stand."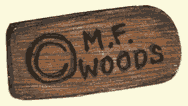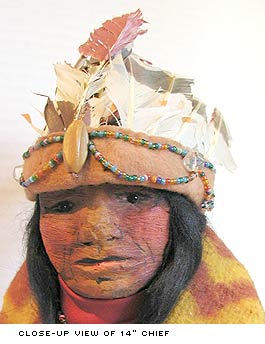 Mary Francis spent years perfecting the design of the dolls. It was a solely local endeavor dependent on the tourist trade. The leather painted faces were replaced with molded mask faces made from light brown crepe paper over plaster. The thin lines in the crepe paper gave the faces a realistic and weathered appearance. Every detail of the facial features were delicately painted, further enhancing each dolls individual look. The simple tubular bodies were stuffed at the torso and wrapped with traditional patterned blankets. Wood feet, painted to look like moccasins, were nailed to the base. Some dolls were created on small blocks and fashioned in a seated position. As with Skookum Indian dolls the variety is endless!