arry Heye Tammen created, owned, and operated the H.H. Tammen Curio Company of Denver, Colorado—where Skookum Indian dolls were manufactured and distributed for over 45 years. Skookum dolls were only one of many things that Harry Tammen was involved with. His curio business began as an idea to sell romantic symbols of the West to tourists for a tidy profit. For as the circus king P.T. Barnum once said (and Harry Tammen truly believed), "there's a sucker born every minute."

Harry Tammen was born in Baltimore, Maryland in 1856, the son of Dutch and German descent. Sadly, Harry lost his father at an early age. Unable to financially support her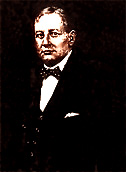 son, Caroline Tammen had to let him go. Dressed in an oversized homespun suit at the ripe old age of seven, Harry Tammen refused the orphan's home and set out on his own. His mother's last words to him were, "my little son, may love and good cheer always go with you." Forever after, Tammen closed each of his letters with the phrase: "With love and good cheer." Speaking only German, the fearless young Tammen set out and found a job helping a porter at a beer garden. He was a bright boy and grew up working in many bars, learning to speak English from the patrons and learning to read from abandoned newspapers. By his early twenty's Tammen was a seasoned and popular bartender. He was bartending in Chicago when he was recruited by a Colorado socialite to go to Denver and work in his establishment. "Tammen took to the West, and the West took to Tammen."

Harry Tammen had a cherub-like appearance; portly, with clear-skin, blonde hair, and blue eyes. He was a very clever young man and the West was full of opportunities. His job exposed him to many con artists whom he grew to admire. He found their shenanigans hilarious and cunning. He himself was constantly coming up with new ideas and schemes. In the old west you were either a "con-man" or a "sucker." He fancied himself among the best of the former. One patron's hoax in particular was very inspiring to Tammen. News of an archaeological discovery of a prehistoric man circulated in the papers and a local conman by the name of "Soapy" purchased the body. He had it shipped to Denver where he charged twenty-five cents to view this amazing curiosity. It was learned later that Soapy had paid a starving artist to sculpt the prehistoric man from concrete adding real hair, teeth, and nails. Envious that he hadn't thought of it first Tammen was inspired enough to want to open a curio shop.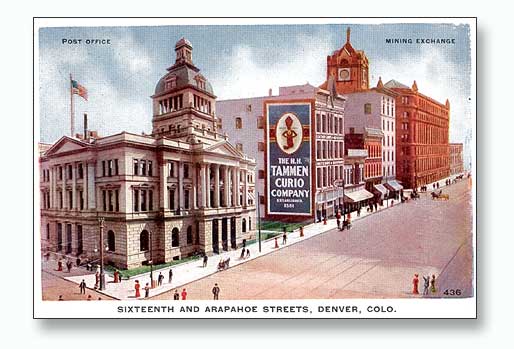 It was in Denver where he made his fortune the best way he knew how. "I started out," he would say, "with a big rock and a brainstorm." To make a long story short, a patron who had just been expelled from a local "house of forbidden pleasures" came into Tammen's bar fiddling with a chunk of "Peacock Ore" that he carried for luck. Tammen was interested in the rock and wanted to buy it. It turns out the man had a rather large chunk of it in his carpetbag. The only problem was that it was left behind at the Madame's house and she wouldn't give it back to him. Tammen wanted the stone, so he took the man back to the house. After an attempt to ask politely for the bag, the door was slammed in their faces. Tammen then proceeded to set fire to the front porch—and while everyone else was running out the back, they ran in and grabbed the bag. Tammen took the large chunk of ore, broke it into bits, and labeled each piece as a western souvenir. This was the beginning of his curio business. He purchased a museum space on Larimer Street in Denver, and soon his company grew to become one of the largest curio businesses in America.

He developed a large mail-order trade and published detailed catalogs depicting his wares. He sold a variety of stones, minerals, western souvenirs, and "authentic" Native American crafts. According to the author of Tammen's biography, some of his descriptions of these wares were downright fraudulent:
"His moccasins never came from the wigwams of aboriginal manufacturers, but were sewn and beaded by gentle old ladies of the city, who wished to earn pin-money.

"You might purchase War Cloud's baby-bonnet for five dollars, or the pugnacious millinery of Sitting Bull for fifty dollars. He sold annually as many as eighty 'authenticated scalps' of foes slain by Geronimo—and goodness only knows how many times Geronimo's own, personal scalp (concocted on the premises) was sold for a high figure.

"He sold authentic Navajo blankets that were actually manufactured out East and had schoolboys chipping arrowheads in the basement of his building. Tammen was quoted once saying, 'Sometimes I am led to believe that our workmanship surpasses that of the Indians themselves.'"
The curio business wasn't Harry Tammen's only endeavor. He had a longtime partner by the name of Fred Bonfils with whom he shared ownership of the Denver Post and Kansas City Post. They also created the Sells-Floto Circus. These two men were notorious for their sensational news and bold business tactics. Their adventures had gone so far as to getting them shot and sued (in separate incidents.)

From a humble beginning, Harry Heye Tammen had made himself an amazing and lucrative life. This story would not be complete, however, without mentioning that with all of his creative schemes, cons, and money—most of all Harry Tammen had a tremendously giving heart. He didn't like to reveal his soft spot for those in need so he quietly gave to many charities; including homes for the old and aid for tuberculosis patients. Never having any children of his own, he and the love of his life, his wife Agnes, left half of their estate to the Denver Children's Hospital. Harry Tammen died of cancer July 19, 1924.

*All information was referenced from Timber Line, A Story of Bonfils and Tammen by Gene Fowler.