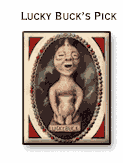 A Midwestern Beauty
This beautiful Skookum Indian doll is just one of many excellent examples privately held in a Midwest collection.

The female doll with papoose stands a glorious 19" tall and is in pristine, all original condition. Her flawless composition mask and the wonderful coloring of her costume, make her an exquisite find.

Special attention was paid to dressing and decorating these older pre-1940, large composition dolls. Note the beaded headband with dangling bead ornamentation, the fur fluffs at the ends of the human hair braids, and the carefully chosen glass beads used in her earrings and necklace. The Beacon blanket wrap couldn't be nicer. Even her papoose has a decorated headband and feather!

Difficult to find, especially in this condition, a Skookum such as this could easily be the centerpiece of a collection.

Special thanks to our anonymous collector friend for sharing photos of this most wonderful doll.